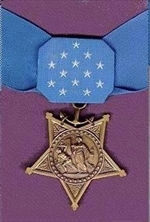 Medal of Honor Citation: Michael Aheam
Rank: Paymaster's Steward
Organization: U.S. Navy
Departed: Yes
Entered Service At: France
G.O. Number: 45
Place / Date: Cherbourg, France, 19 June 1864
Citation: Served on board the U.S.S. Kearsarge when she destroyed the Alabama off Cherbourg, France, 19 June 1864. Carrying out his duties courageously, PmS. Aheam exhibited marked coolness and good conduct and was highly recommended by his divisional officer for gallantry under enemy fire.