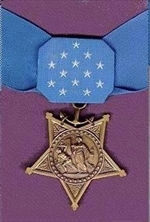 Medal of Honor Citation: Lewis Kenneth Bausell
Rank and organization: Corporal, U.S. Marine Corps.
Born: 17 April 1924, Pulaski, Va.
Accredited to: District of Columbia.
Citation: For conspicuous gallantry and intrepidity at the risk of his life above and beyond the call of duty while serving with the 1st Battalion, 5th Marines, 1st Marine Division, during action against enemy Japanese forces on Peleliu Island, Palau Group, 15 September 1944. Valiantly placing himself at the head of his squad, Cpl. Bausell led the charge forward against a hostile pillbox which was covering a vital sector of the beach and, as the first to reach the emplacement, immediately started firing his automatic into the aperture while the remainder of his men closed in on the enemy. Swift to act, as a Japanese grenade was hurled into their midst, Cpl. Bausell threw himself on the deadly weapon, taking the full blast of the explosion and sacrificing his own life to save his men. His unwavering loyalty and inspiring courage reflect the highest credit upon Cpl. Bausell and the U.S. Naval Service. He gallantly gave his life for his country.