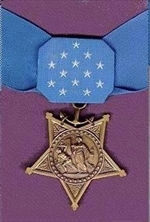 Rank and organization: Private First Class, U.S. Marine Corps Reserve.
Born: 29 January 1925, Racine, Wis.
Accredited to: Wisconsin.
Citation: For conspicuous gallantry and intrepidity at the risk of his life above and beyond the call of duty while serving with the 4th Battalion, 10th Marines, 2d Marine Division, in action against enemy Japanese forces on Saipan, Marianas Islands, 7 July 1944. When the enemy launched a fierce, determined counterattack against our positions and overran a neighboring artillery battalion, Pfc. Agerholm immediately volunteered to assist in the efforts to check the hostile attack and evacuate our wounded. Locating and appropriating an abandoned ambulance jeep, he repeatedly made extremely perilous trips under heavy rifle and mortar fire and single-handedly loaded and evacuated approximately 45 casualties, working tirelessly and with utter disregard for his own safety during a grueling period of more than 3 hours. Despite intense, persistent enemy fire, he ran out to aid 2 men whom he believed to be wounded marines but was himself mortally wounded by a Japanese sniper while carrying out his hazardous mission. Pfc. Agerholm's brilliant initiative, great personal valor and self-sacrificing efforts in the face of almost certain death reflect the highest credit upon himself and the U.S. Naval Service. He gallantly gave his life for his country.