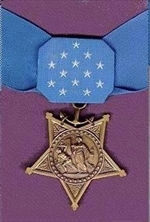 Rank and organization: Lance Corporal, U.S. Marine Corps, Company K, 3d Battalion, 7th Marines, 1st Marine Division.
Place and date: Republic of Vietnam, 11 August 1967.
Entered service a: Jackson, Miss.
Born: 24 July 1947, Moselle, Miss.
Citation: For conspicuous gallantry and intrepidity at the risk of his life above and beyond the call of duty. L/Cpl. Wheat and 2 other marines were assigned the mission of providing security for a Navy construction battalion crane and crew operating along Liberty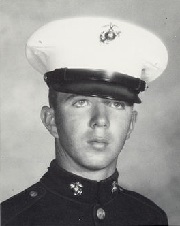 Road in the vicinity of the Dien Ban District, Quang Nam Province. After the marines had set up security positions in a tree line adjacent to the work site, L/Cpl. Wheat reconnoitered the area to the rear of their location for the possible presence of guerrillas. He then returned to within 10 feet of the friendly position, and here unintentionally triggered a well concealed, bounding type, antipersonnel mine. Immediately, a hissing sound was heard which was identified by the 3 marines as that of a burning time fuse. Shouting a warning to his comrades, L/Cpl. Wheat in a valiant act of heroism hurled himself upon the mine, absorbing the tremendous impact of the explosion with his body. The inspirational personal heroism and extraordinary valor of his unselfish action saved his fellow marines from certain injury and possible death, reflected great credit upon himself, and upheld the highest traditions of the Marine Corps and the U.S. Naval Service. He gallantly gave his life for his country.